February 11, 2011 @ 12:00 am | Categories beauty & wellness
From football, lets talk about make-up naman. Hehe. Smokey-eyes make up has been one of the popular looks for this season. The secret in achieving professionally made up smokey eyes is to blend colors properly. Pero para naman hindi ka mukhang nagka-black eye lang, here are the steps to have a smokey-eye look:
Take note what you need: 1) Eyeshadow Base 2) A light and darker shades of eye shadow 3) Eyeliner 4) Make-up Brushes 5) Mascara
Step 1: First, apply an eyeshadow base (concealer) to even out the color of your eyelids and avoid melting of eyeshadow.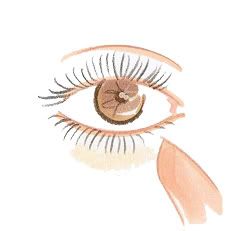 Step 2: If you've chosen a typical black, brown or gray smoky eye, apply a soft eyeliner in one of the colors above the upper lash line. The line should be thicker on the middle part of the eye. Then smudge both lash lines using a cotton bud.

Step 3: To give your bottom lids the thick shade, (which will be the key to smokey eyes) apply the liner of a lighter color to the bottom eyelids. Remember to smudge the lines a bit until you get the shadow you want.

Step 4: Sweep light base color over the lids to the browbones. The shadow should also be shimmery. Thus, you have the eyeliner and the base.
Step 5: Using a brush, blend in color starting at your lash line and then applying it into your eye crease, blending up and outward. Blend color so that the eye liner disappears.
Finish your smokey eyes with some coats of black volumizing mascara. That's it! Mukha ka nang binugbog! Lol.
/
[Back to Home]