October 10, 2009 @ 12:50 am | Categories fashion for less
Since most of us are looking for beauty on a budget, I think its a good time to post entries about achieving celebrities fashion for less.
Jennifer Aniston in Stuart Weitzman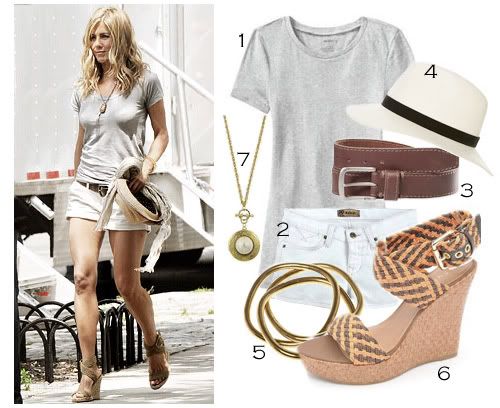 Cheaper Alternative:
1. Plain Gray Shirt (P150), 2. White Shorts (P250), 3. Boyish Belt (P200) Landmark
4. Fedora Hat (about P1150) Topshop
5. Bracelet (P389) Crossings
6. Wedge Sandals (P2999) Schu
7. Vintage Necklaces Cubao X
Blake Lively in Chanel

Cheaper Alternative:
1. Plain White Tunic (P250) Landmark
2. Scarf (about P490) Dorothy Perkins
3. Hobo Bag Le Donne, Robinsons Department Store
4. Metallic Bangles (P49) Landmark
5. Glitter Flipflops Flojos, Trinoma
Its not that I support the idea of copying but my point is, brand name isnt important as long as you have the keen eye when shopping, and of course be practical. You might even find cheaper items than what were mentioned above.
[Back to Home]
1 Comment
Posted by Recording Blogs | Celeb Looks for Less

[...] here: Celeb Looks for Less Related ArticlesArmani Junior Plain Blue Shirt London Street Fashion | Elite [...]